Introduction
For tens of thousands of years, human beings communicated through pictures and music. Language set humanity apart from every living thing that ever came before it. People developed language to explain the world around them, to paint pictures in words that would describe where they had been and what they had seen and heard and felt. Language would allow humanity a way to convince others to follow a certain path, to explore the world, to discover more, experience more, live more.
Our language continues to grow and evolve as people come together from different parts of the world, bringing with them words and terms that are absorbed into the common lexicon. This learning activity will look at the power of story to inspire, convince, describe, inform.
You don't write because you want to say something, you write because you have something to say.

– F. Scott Fitzgerald
What you will learn
After you have completed this learning activity, you will be able to
compare the logistics of delivering a product to a local, a national, and an international market
describe the key factors (such as climatic considerations, topography, and cost) that influence the way a company delivers its product to an international market
compare the advantages and disadvantages of different modes of transportation for distributing a product to different world markets
identify sources of information to facilitate the import/export process (such as brokerage firms Canada's imports and exports and Global Affairs Canada), drawing on a variety of sources, including the Internet

The power of story
Why learn the writer's craft?
Why did you register to take this course? Think about that for a moment before writing your answer. Expand upon your answer, and then submit it.
Perhaps you wrote things like "I enjoy writing" or "I want to improve my writing!" Perhaps you are taking this course for a few other reasons that you'd rather not share right now.
However you answered, the important thing is that you made a decision to enroll in a course called the Writer's Craft and committed to exploring an art form that has engaged and connected humanity for thousands of years.
What is power?
As poet, novelist, literary critic, essayist, and environmental activist Margaret Atwood says in her poem "Spelling," "a word after a word after a word is power." This idea will be explored as you progress through this course: the power that words and story have to describe, to explain, to persuade, and to influence.
Activity
While enrolled in this course, you will save drafts and samples of your writing to document your growth as a writer. You will use them in Assessments and in a learning activity 4.5 portfolio. So, you will need a notebook and log book. They can be virtual (that is, stored in your computer) or they can be paper notebooks. They can be for your eyes only. You will not be submitting your entire Course Notebook and Writer's Log to ILC, but they will be sources of drafts and ideas that will become assignments such as poems, stories, and essays to be submitted in learning activities 1.5, 2.5, 3.5, and 4.5. For the moment, your task is to virtually establish (on your computer) or to physically acquire a Course Notebook and Writer's Log. You will be referring to them or using them in every learning activity, including this one. You may choose to keep your Writer's Log in a separate book or document or in your Course Notebook. The important thing about the log is to try to write something in it each day (like a diary) and to date each entry.
Anything you write for this unit that you are particularly proud of (whether submitted for marking or not) should be set aside so that you can get it marked by a teacher at the end of learning activity 4.5. If electronic, save this item into a folder as something simple like Unit01_portfolio.doc so that it will be easy to find, when you have completed the course.
Activity
Watch the video "Jonathan Gottschall on 'The Storytelling Animal,'" in which well-known literary scholar and teacher Jonathan Gottschall explains how human beings live their lives inside stories. He mentions how "we are addicted" to experiencing news stories, sports stories, love stories, murder stories, interactive stories, commercial stories, and religious stories.
Create a table like the following and, as you watch, jot down some key points. In one column is a list of quotations, in the other an area where you can write down what they mean to you, or why you think they are important as you start out this course.
The Storytelling Animal: How stories make us human
| | |
| --- | --- |
| "Story infiltrates our lives in ways we are hardly even aware of." | |
| "Who hasn't been ambushed by a story?" | |
| "We live our lives inside of stories." | |
| "Man is the great ape with the storytelling mind." | |
What power do stories hold?
The article "Tap the Power of Storytelling" (Opens in new window) by Rodger Dean Duncan further discusses the idea around the power of story. Duncan interviews Geoffrey Berwind, a professional storytelling consultant and trainer, on how story can engage and build trust, even in the world of business.
Activity
Take a moment to answer the following questions about "Tap the Power of Storytelling."
Explain how stories can have a powerful impact in the world of business.
A good story will enable customers to see your authenticity. Customers prefer to buy from people they "know, like, and trust."
What kinds of stories could leaders use to influence others? Provide some examples from your own experience
Geoffrey Berwind mentions three types of stories. A "Purpose Story" conveys a big idea. An "Example or Proof Story" illustrates how others overcame a similar problem and had a successful outcome. A "What If?" or "Imagine …" story can be used to offer a transformation, a change, or an alternative. You may have come up with your own examples beyond what was in the article.
According to Berwind, why is it so important to begin with a WHY story?
An authentic "why I do what I do" story can deeply affect your audiences. This will help transmit your passion to the audience and keep them engaged.
Activity
After you have read the article "Tap the Power of Storytelling," and answered the questions, write a response of one to three pages (250 to 750 words) in your Course Notebook.
Berwind explains that in business an audience will gravitate to "authentic people" with whom we can relate and connect. An example might be the Chewbacca Mask Lady (also known as Chewbacca Mom) video that came out on May 19, 2016. In this Facebook Live video, a 37-year-old Texas mother named Candace Payne unwrapped a new Chewbacca mask, put it on, and laughed a number of times, garnering millions of views. It affected social media, mainstream media, and the world of retail. Shortly afterward, sales of the mask increased an astounding 916 298% on Amazon.
Create a "story toolbox," as Berwind suggests, by writing one to three of the following: Cautionary story, Teaching story, Inspirational story, or your own Everyday story. It should be a story that makes you more relatable to others (that is, your audience).
Do this writing activity in your Course Notebook.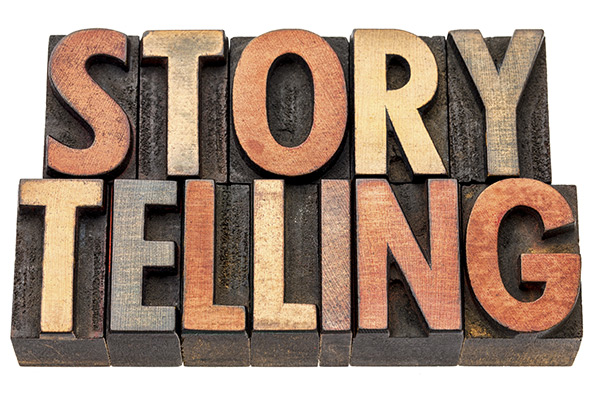 If there is a magic in story writing, and I am convinced there is, no one has ever been able to reduce it to a recipe that can be passed from one person to another. The formula seems to lie solely in the aching urge of the writer to convey something he feels important to the reader. If the writer has that urge, he may sometimes, but by no means always, find the way to do it. You must perceive the excellence that makes a good story good or the errors that make a bad story. For a bad story is only an ineffective story.

– John Steinbeck
The essential truth about stories is that a good one can speak to everyone, regardless of age, education, or cultural background. A good story or well-presented argument can sway anyone to feel a certain emotion, believe a certain thing, or act in a certain way.
Consider how we tell and retell stories, both our own and those we hear from others. Consider how challenging that can be, in particular when a story has to be told in a certain way to make sense. For example, have you ever tried telling a joke you heard and somehow screwed it up as you came to the punchline? Does your family have stories about relatives that have been passed down from one generation to the next? Have these stories, like tall tales, grown in the telling?
Introduction to the writing process
Canadian author Thomas King once said: "I am a listener to the language of stories and when my words form I am merely retelling the same stories in different patterns." The pattern of storytelling is common the world over, and while the process is different for everyone, at its core the pattern is very similar for many writers.
You may know of the writing process when developing a thesis and that it is relatively straightforward. The creative writing process can be quite different. It might begin with a plot outline, a strong character or characters, a dramatic point, or even the climactic moment. But writers all follow the same path as they plan (discover ideas), draft (get those ideas down on the page), revise, rewrite, edit, and publish a final draft.
For users of screen readers: this six-step writing process can be summarized in this way:
1. plan– brainstorm; make an outline or graphic organizer
2. draft– write a rough draft; organize your thoughts
3. revise– refining word choices and reorganizing paragraphs
4. rewrite– keep writing until you are happy with the result
5. edit– self-assessment and peer editing
6. publish– publish the result
(Opens in new window)
Activity: The writing process
Now take a moment to answer these questions in response to the article in your Course Notebook.
1. Summarize each step of the writing process in your own words.
2. Consider something that you have written in your academic career: an essay, a short story, a research paper. Did you follow the writing process? Explain how you did so, or what steps of the process you missed. Did this have an impact on the final product?
3. Is there a piece of the process missing in the article? Explain what it might be as your own advice to young writers.
Activity: The writing process
Now watch "Writing Process Animation," which examines the writing process and also provides insight into brainstorming ideas, the art of creativity, and how you can think about your writing.
As you watch, do the following in your Course Notebook:
Follow the writing prompts in the video, pausing as necessary (for instance, at five minutes in, you will pause to "set your own goals").
Identify five big ideas from the video that are meaningful to you as a writer.
Writing, creativity, and thinking
This topic will look at how to approach the task of thinking and writing. It will provide cues to spark your creativity. How does one teach or learn creativity in the field of writing? Some argue that boundless creativity is an innate quality (and a requirement for success), while others believe that anyone with enough drive and time to develop their creativity can be successful. As you will read later in this course, most authors would say that writing requires great determination and the time to practise writing each day.
Human beings, as mentioned earlier in this learning activity, are storytelling animals. Language and communication are integrated, almost hard-wired into our brain functions. Even people born with communicative challenges have been known to express themselves with clarity and beauty. Helen Keller lost her sight and hearing at a very young age in the early 1900s and lived in a solitary world of darkness. When she learned to read and write to express herself, the world opened up to her. She stated at one point:
Literature is my Utopia. Here, I am not disenfranchised. No barrier of the senses shuts me out from the sweet, gracious discourses of my book friends. They talk to me without embarrassment or awkwardness.

Source: brainyquote.com/quotes/quotes/h/helenkelle133897.html
As you can see, it was writing and literature, including the art of self-expression, that helped Helen Keller explore what it meant to be fully human.
Now let's take a moment to explore what it means to be super-human! Watch the video "Full Frame – Stan Lee Episode Eight." It features Marvel Comics creator Stan Lee, who wrote stories for such popular superheroes as Spider-man, Thor, the Hulk, and Captain America.
Activity
After you have watched the video, in your Course Notebook write down the pieces of advice Stan Lee provides that resonate with you.
Reflective writing
Another important step in establishing a writing routine is to keep a Writer's Log, which you will not submit for marking. This daily journal or scrapbook is for your own private use.
The idea of journaling can cause one to groan because of its negative associations from earlier grades in school where you were forced to write about your day, or about contrived topics like "my favourite season." But authentic journaling can be a powerful way to record your thoughts about things you see, hear, read, and experience throughout a day. Any of these can serve as inspiration for your writing or help support an argument you are making on any number of topics.
Your Writer's Log doesn't necessarily have to be on bound paper or even in a Word document. You might consider starting by using a note forum, such as OneNote or any of the cloud-based notetaking apps that you have at your fingertips on a phone, e-reader, or computer. Your Writer's Log may also be used to record snippets of conversation, headlines from articles, and pictures (from your own camera and found images).
In an article from The Atlantic, "The Power in Writing About Yourself," author James Hamblin identifies research that supports the idea that
Reflective writing, particularly in a journal, has been shown to have health benefits both physical and emotional, like increasing control and creativity, decreasing anxiety, depression, and rage. But it's hard to do […] Journaling has a lot of known benefits, […] but it's a super, super high friction problem because you put a blank page in front of someone and they're like, "I don't know what to do."
Hamblin cites web designer Albert Lee, whose research into an application development shows this to help people with journaling his application, called Emojiary, which sends users prompts to which they respond at first with emojis on their cell phone:
In talking specifically about developing a journal platform, the solution seemed to be to make things visual and simple. The two objections people had to more traditional journaling platforms were that they didn't know how to put their emotions into words, and they think faster than they type.

Source: theatlantic.com/health/archive/2014/12/ew-feelings/383475
As you know, it is easy to communicate with someone and express your ideas succinctly through the use of text messaging, or on social media venues like Twitter. As you just read, people even respond to one another simply and effectively through the use of emoticons and emojis. It is reminiscent of how ancient humans communicated before the invention of the written word. Think about Egyptian hieroglyphs or Sumerian pictographs and how they could describe anything from the creation of the world to business transactions between nations.
Writer James Patterson has sold more than 300 million print books, millions of e-books, and a dozen of his novels have become feature films or TV series. He holds the record for the "most #1 New York Times bestsellers by a single author" (a total of 67).
The excerpt from the article "An Accomplished Writer Takes a 'MasterClass' from a Gargantuan Selling Author," (Opens in new window) looks at a MasterClass on writing given by Patterson. This article from the New York Observer examines how he gets his ideas, his work through a writing process, and what he believes the important things are for a writer to be successful in the craft.
In the video "The World Over with Raymond Arroyo," James Patterson talks about his creative process and his influences. Watch the video and compare what he says in it to what Joyce Maynard says in the preceding article. Add any thoughts and ideas he communicates to your Course Notebook.
Daniae dolestium
Throughout this learning activity, you have been taking notes and considering the writing process as seen through the eyes of famous writers and experts in the field of writing.
You have also started a Writer's Log to record your thoughts, ideas, snippets of conversation, headlines, and pictures from both the media and your own camera.
Select one of the following two options for this assignment, which should be 750 to 1000 words in length.
Option 1: All about me
Write about yourself, why you want to write, what you hope to accomplish by taking this course as related to a turning point in your life.
Write about a time in your life where you experienced a turning point, where you either turned away from something old toward something new or crossed a boundary between things you used to know and things you know now.
Why do we read fiction anyway? Not to be impressed by somebody's dazzling language – or at least I hope that's not our reason. I think that most of us, anyway, read these stories that we know are not "true" because we're hungry for another kind of truth: The mythic truth about human nature in general, the particular truth about those life-communities that define our own identity, and the most specific truth of all: our own self-story. Fiction, because it is not about somebody who actually lived in the real world, always has the possibility of being about ourself.

Place

Source: Orson Scott Card (introduction to Ender's Game)
A turning point in your life can also be an epiphany - an "Aha!" moment where you discovered something about your life: your belief system, philosophy, your outlook. While these moments can be joyous and inspiring, quite often they stem from pain, death, or disaster. Very strong emotions that can be channelled into your writing; use them to add feeling and power to your prose. Through these experiences we see the "mythic truth about human nature," as Card says, which can help us define our own identities.
Here's the trick of it: you must write about yourself in the third person. While this "All About Me" essay is a turning point that happened to you, you will write about it as if it happened to someone else. Give yourself another name if that makes the job easier, but don't hyperbolize or fictionalize your story. As Card says, our turning point should contain "the most specific truth of all: our own self-story." Perhaps, in writing from another perspective, you will gain some more clarity and insight into your own experience.
Include any motivational quotations that speak to you or have inspired you throughout your life.
OR
Activity
Option 2: The power of words
We all use words to convey meaning or to describe things in conversations, and sometimes we may regret certain words used in arguments, but on the whole words have only the power we give them, through perceptions of context and connotation.
To illustrate the power that words have and how their meaning can be shaped by the perplexing purposes of whoever uses them, we must first look at words very closely, at their origins, usage, and effect.
1. Select five words. They can be any words, but preferably ones you find interesting, intriguing, descriptive, frightening, or amusing.
2. Define the words. Look up their dictionary definitions. Do these words mean what you thought they did?
3. Do the words have multiple meanings of which you were unaware? Look at the words' etymologies. Does this give you any further information about how the modern words evolved?
4. For one of the words, write a paragraph explaining the following:
Why you selected the word
What about the word is unique or interesting
Any associations or mental images you have relating to the word
A memory or visualization you have regarding the word
The idea is to see words as entities in and of themselves, to see the power they possess both alone and when placed in a certain context.

You are now well on your way to understanding the art, craft, and world of writing. You have explored the power of story and storytelling, started tracking ideas from authors on writing in your Course Notebook, and begun your own writing observations in a Writer's Log. You have learned about the writing process. You have also examined what it means to be a writer and started to see the relationship between writing, creativity, and thinking. You have investigated what it means to be creative, and read some examples of effective writing, becoming more aware of how that might improve the overall quality of your writing and thinking.
In the next learning activity, you will begin to explore the minds of some great modern writers. This is where you will learn the tricks of the trade and receive some of the best advice on writing from the masters themselves!